Details
Article
Learning through Listening; Preserving through Performing
Poland promotes itself internationally as a meeting place for different cultures. Unfortunately, however, the nation is having to grapple with a dramatically rising wave of nationalism, Antisemitism, xenophobia and social exclusion. Jewish cemeteries are repeatedly vandalised; Antisemitic, racist and nationalist graffiti are common sights on buildings. The Jewish heritage of many Polish areas is sadly being forgotten. It is not widely known, for example, by the inhabitants of Lower Silesia, Opolskie and Mazovian Voivodeships that before World War II, their cities were the most prominent centers of Polish German-Jewish life and afterwards housed the biggest Polish community of Holocaust survivors who wanted to rebuild Jewish life in Poland.
Jan Kirschenbaum's fascinating project aims to combat stereotypes and preconceived notions of Jews by exposing them to contemporary Jewish communities. The project employed methods of informal education on national diversity in context of the Jewish community and preventing Antisemitism in Polish society. It included lectures, workshops, murals of Polish German-Jewish sports clubs and a football tournament for children.
Learning through Listening; Preserving through Performing, included Kick for Europe. This brought together Jews and non-Jews and their national organisations, integrating them through workshops, lectures and football.
Another of the sports based events that this project encapsulated included the Fussballiada 2020 – Willimowski International Football Tournament for Children from National Minorities wherein children from national minorities joined together for a day of healthy competition on the pitch. 
They also hosted The Lower Silesian Festival of Jewish Culture. The festival included numerous lectures and workshops on local Jewish history and culture, stereotypes, Antisemitism and the Holocaust from the perspective of local multicultural history. The aim to was to introduce local Polish Jews and their contemporary culture, traditions and heritage to their Polish non-Jewish neighbours.
Mural Engaged in The Social Change in Poland was the final part of the project. This involved children from national minorities and local schools of Gogolin to paint a mural of Leopold Cassirer, a German-Jewish industrialist, social activist and philanthropist from Gogolin. Although the mural painting was postponed due to COVID-19, the celebration of this mural painting will combine a local educational and socio-cultural event open to public with anti- discrimination workshops for children and an open meeting with a local Catholic priest, Protestant pastor and representatives of the Jewish community to celebrate the new name of the local city park in Gogolin dedicated to Leopold Cassirer.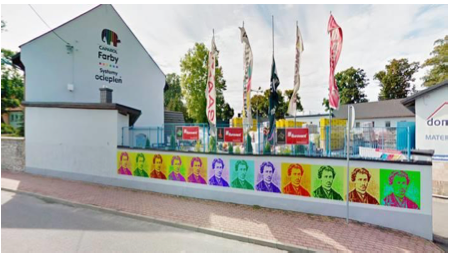 This project was nominated for the BRAVE Fair 2020 Award by the international committee based in Berlin, Germany.