Details
Article
"Democracy is fragile," introduces his recent editorial published by the Honolulu Star-Advertiser Senior Landecker Fellow Kris Coffield. In this op-ed, written as part of his Landecker Democracy Fellowship, Kris explores how essential media literacy is to democracy.
"Investing in media literacy would empower our youth to defuse outbursts of digital violence and intolerance," Kris highlights, as he shares some worrisome statistics. For example, according to a 2018 research, over 60% of teenagers in the US "have encountered hate speech on social media." Simultaneously, political violence is on the rise, as is the use of right-wing extremists of social media and other forms of online communication, Kris reports.
Therefore, it is essential that today's youth are equipped to "identify factual evidence and employ sound reasoning when communicating online."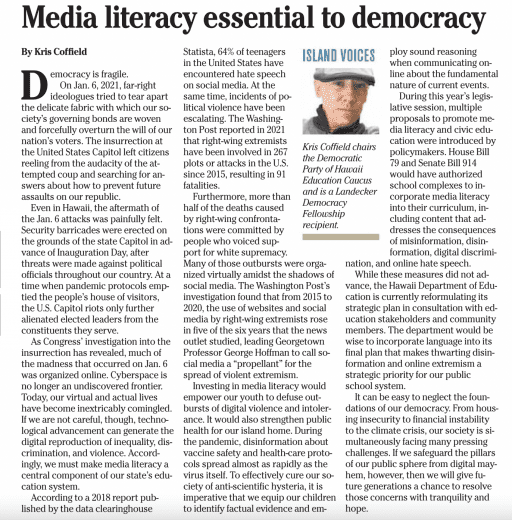 Learn more
Kris is one of thirty 2021-2022 Landecker Democracy Fellows. This fellowship, a collaboration between the Alfred Landecker Foundation and Humanity in Action, was created to strengthen a new generation of leaders whose approaches to political and social challenges can become catalysts for democratic placemaking and community building. Read more about the fellowship here.