Details
Article
On February 16, 2023, Landecker Fellow Yasmin Al-douri was a panelist at one of the side events of the Munich Security Conference, an annual event about international security policy that has been held in Munich, Bavaria, Germany since 1963 and continues to be one of the largest conferences on this topic.
Yasmin appeared in a panel titled "U.S.-German Futures Forum – 'Data for Good: Tech Insight for Security and Democracy,'" starting at 8pm. The event took place in a hybrid format.
Watch the recording:
About the panel
The panel was part of the U.S.-German Futures Forum, organized by the U.S. Department of State, German Federal Foreign Office, the Bertelsmann Stiftung, and American Institute for Contemporary German Studies (AICGS) at Johns Hopkins University. The this intergenerational panel discussion allowed participants to "explore how public and private spheres might partner more effectively on the identification, mitigation, and prevention of potentially cataclysmic security threats such as Denial of Service attacks, wiper malware, and ransomware demands, as well as physical threats – including an examination of early lessons learned from the Russian invasion of Ukraine," the official program explains.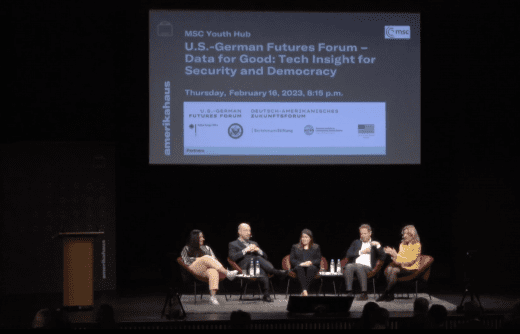 Speakers:
Kemba Walden, Principal Deputy National Cyber Director, White House
Regine Grienberger, Cyber Ambassador, German Federal Foreign Office
Panelists:
David Van Weel, Assistant Secretary General for Emerging Security Challenges, North Atlantic Treaty Organization (NATO)
Yasmin Al-Douri, Co-Founder, Responsible Technology Hub
Carisa Nietsche, Associate Fellow, Center for a New American Security (CNAS)
Phil Venables, Chief Information Security Officer and Vice President of Google Cloud, Google
Moderator:
Melinda Crane, Senior Political Analyst, Deutsche Welle
Learn more
Yasmin is one of thirty 2022-2023 Landecker Democracy Fellows. This fellowship, a collaboration between the Alfred Landecker Foundation and Humanity in Action, was created to strengthen a new generation of leaders whose approaches to political and social challenges can become catalysts for democratic placemaking and community building. Read more about the fellowship here.