Details
Article
Landecker Fellow Ági Fernengel and her team at the School of Public Life have started a new program facilitating trainings on grassroots organizing, advocacy, and social inequalities in four cities across Hungary.
They believe that "democracy is not a noun but a verb – it only exists if we do it." According to the team, people should stand up for their interests and organize their communities for a more just and democratic Hungary. In other words, social change needs to happen from the bottom up.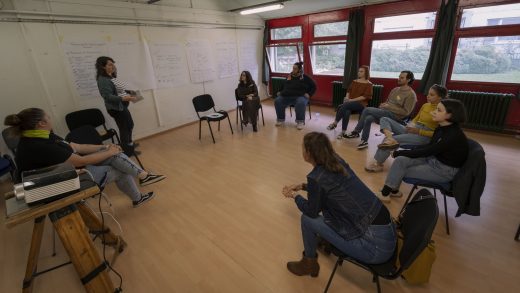 Therefore, the team teaches about tools to build strong communities and movements, as well as ways to advocate for one's community's interests. To do so, they collaborate with inspiring and dedicated local partner organizations across Hungary.
Ági is one of thirty 2021-2022 Landecker Democracy Fellows. This fellowship, a collaboration between the Alfred Landecker Foundation and Humanity in Action, was created to strengthen a new generation of leaders whose approaches to political and social challenges can become catalysts for democratic placemaking and community building. Read more about the fellowship here.