Article
Nitzan Menagem is a project manager, pedagogical coordinator, trainer and speaker for social activism, specializing in political participation, conflict resolution and the prevention and impact of Gender Based Violence in intercultural settings. Based in Berlin, Nitzan is the chairperson of Hashomer Hatzair Germany, a progressive Jewish youth association that centers youth autonomy and humanistic secular Judaism, and was re-established in Berlin in 2012 after more than 70 years. She is the founder and director of ROSBOT, a non-confessional and multicultural initiative, promoting "Fearless Education for a Hopeful Future", concentrating on political education for educators and youth workers.
In 2022, Nitzan received a travel and research grant within the Untold Stories | Places of Memory project. She authored the video A Jewish Youth Movement Across Generations.
A Jewish Youth Movement Across Generations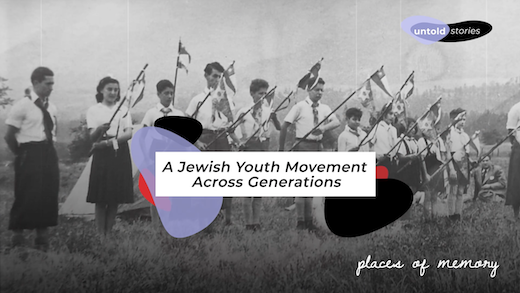 Click here or on the picture to see the full video.
Updated October 2022