Details
Article
On March 3, 2023, at 10am, Landecker Fellow Nicole Rieber is speaking at a dialogue panel at the TraCe annual conference titled "Language(s) of Violence."
"How are language and violence related?", will be the core question of the panel.
Moderated by Prof. Dr. Christopher Daase (HSFK/PRIF, TraCe) and Rebecca Schmidt (ConTrust), the discussion will address different intersections of language and violence from different perspectives of practice. The aim of the panel is to promote the exchange between science and practice and to address a broad public audience.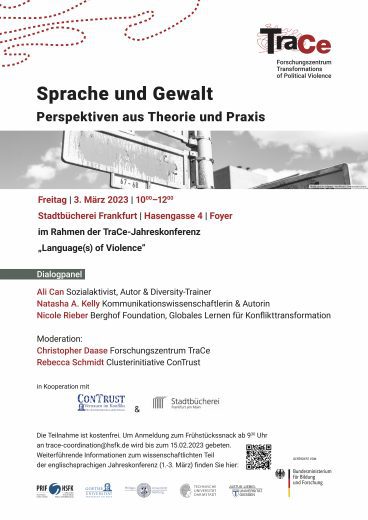 Panelists
Ali Can | Social activist, author and diversity trainer
Natasha A. Kelly | Communication scientist, author and activist
Nicole Rieber | Berghof Foundation, Global Learning for Conflict Transformation
The dialogue panel takes place in cooperation with the cluster initiative "ConTrust" and the Frankfurt City Library.
More information
Nicole is one of thirty 2022-2023 Landecker Democracy Fellows. This fellowship, a collaboration between the Alfred Landecker Foundation and Humanity in Action, was created to strengthen a new generation of leaders whose approaches to political and social challenges can become catalysts for democratic placemaking and community building. Read more about the fellowship here.