Article
At an early age, Anoush Baghdassarian learned that as a descendant of survivors of the Armenian genocide, she was part of the "Forgotten."
"I began to recognize the critical role of formal justice as a medium for reconciling heard and unheard stories."
An aspiring human rights lawyer, she is dedicated to remembering The Forgotten – whether they are Syrian refugees, California's trafficking victims, or the 'disappeared' persons from South America – and most importantly, preventing today's oppressed from ever becoming forgotten.
For the past few years, Anoush has been hard at work gathering and telling stories, as well as learning about human rights to prepare for her legal career. In high school, she wrote and performed FOUND, a historical fiction play about the Armenian genocide, to tell her family's stories. After her Humanity in Action Fellowship, Anoush flew to Armenia to collect testimonies from Syrian-Armenian refugees through a grant from the Davis Projects for Peace. The project has since turned into a digital archive called Rerooted with over 200 interviews.
"One of the reasons that [Armenian refugees] did not have recognition for the genocide is because of a lack of accessible documentation, so I didn't want that to be the reason for [Syrian-Armenians] not to get justice – whatever that may mean to them."
Interviewing these individuals made Anoush "more attuned to the challenge of triangulating the validity of multiple narratives," which reaffirmed her interest in exploring law as a means to establish an inclusive process for ensuring accountability. However, while at the Humanity in Action conference in Berlin, she attended a session about continuing human rights education, and realized that she wanted to learn more about human rights issues through an interdisciplinary focus before focusing solely on human rights law. This led Anoush to pursue a Masters in Human Rights Studies at Columbia University where she completed her MA thesis on assessing the attitudes of Syrian-Armenian refugees toward redress and justice in a post-conflict Syria. Anoush received her degree in May 2019 and subsequently started her legal education at to Harvard Law School from which she has now graduated with latin honors and with an unprecedented 4,240 pro bono hours, breaking a Harvard Law School record and receiving the prestigious Kaufman Pro Bono award. Post-graduation from Harvard Law School, Anoush will serve as a visiting professional at the International Criminal Court for one year, followed by a clerkship on the Second Circuit for one year.
Humanity in Action has inspired Anoush and given her a new drive in her work.
"Being selected as a Fellow renewed my confidence that I am also capable of such positive change and that someone else sees that potential."
Through the network of Senior Fellows, Anoush has reached out and received advice on law school applications and learned more about specific programs from Fellows who have taken part in them, as well as shared her own volunteer opportunities with Senior Fellows. She hopes that one day we will live in a world without divisive social identities, which could bring us closer together and away from the worst of modern atrocities.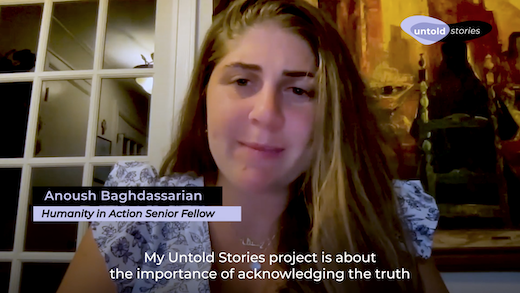 In 2022, Anoush received a travel and research grant within the Untold Stories | Places of Memory project. She authored the video Intergenerational Justice.
Click here or on the picture to see the behind the scenes video.
Intergenerational Justice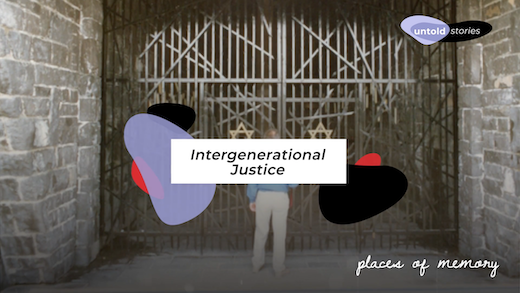 Click here or on the picture to see the full video.
Updated October 2022