Article
Driven by her identity within the Muslim experience in Germany, Sonya Z. Ouertani developed a workshop in Munich to reflect upon the continuous existence of and discrimination against Muslims on the current German territory prior to 1950. Participants for the workshop were composed of twenty Muslim students from all over the country who came together in 2022 to be a part of this influential and impactful event.
Sonya aimed at uncovering and de-conceptualizing the existence of Muslims in the first half of the 20th century, a period of the so-called First and Second World Wars. The workshop provided a platform to question dominant understandings of belonging, rootedness, and coloniality, as well as continuities of injustices, exclusion and racism. In her project, Sonya additionally contributed to a multi-perspective, intersectional and anti-racist approach on knowledge production, history-making and remembrance culture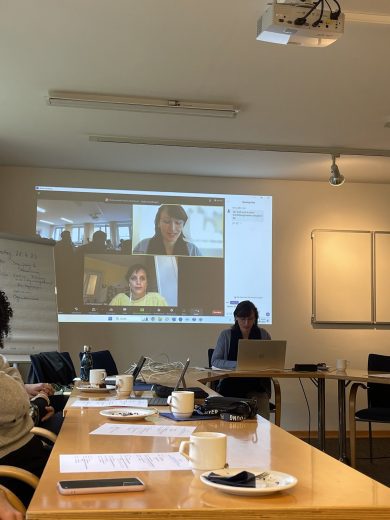 Motivation and Passion
In her Action Project, she wanted to focus on the continuous existence of Muslims on the current German territory prior to the 1950s because of the dominant historical narrative that Muslims only immigrated to Germany in the second half of the 20th century, primarily due to economic reasons. This is a widespread misconception. The continuity of Muslim existence and related historical developments are not well known, even amongst Muslims communities and especially amongst non-Muslims in Germany. Sonya aimed to uncover these existences and historical developments, through her worship, in order to question the dominant narratives and raise debates that ought to be had about the true existence and realities of Muslims in Germany. 
Sonya chose this as her Action Project because the Muslim experience in Germany is her reality. Questions of belonging and experiences of exclusion are part of her existence as a Muslim in Germany. In addition, she knew very little about the historical developments of her own community in Germany. Therefore, Sonya wanted to do further research to not only aid her own understanding of her community's history, but also impact the people in her community, especially those students who will carry on the Muslims in Germany identity, for the better. 
Logistics of the Workshop 
The workshop was no slight achievement; Sonya worked tirelessly to achieve her goal and make this Action Project a reality. In order to develop her project, she did immense research on developing a seminar concept, she reached out to potential partner organizations, specifically a Muslim student scholarship program in Germany, reached out to speakers for the event, and she of course had countless other logistical and organizational preparations. 
In addition to all of that, Sonya managed to raise $6,000 to help fund her project. Funding was a major resource that needed to be obtained, so she decided to reach out to a Muslim student scholarship program in Germany, Avicenna Foundation, since she is one of their alumni. They graciously accepted to be involved with this incredible project and aided the workshop through funding and community support. 
Sonya postulates that organizing the event while still working full-time was a surprising challenge, and advises to give yourself grace and time if planning an event such as this is something in your future. With hybrid events there can often be technical issues, so always remember to stay calm and don't expect everything to always go smoothly. Despite natural logistical bumps in the road, the event was a surmounting success and had profound impacts on the students. Sonya says the most resonating part of the whole workshop was visiting the memorial site in Dachau, the former concentration camp, and speaking to a survivor (photographed in the featured image). She describes this meeting as very emotional and a special experience for all the participants.