Article
Tomasz was born in Kraków, graduated with his first MA in International Relations from Jagiellonian University, Kraków, with a thesis on "Polish-Israeli Relations after 1989." His second MA was at the Jagiellonian University in the Department of Middle and Far East Studies with a thesis on "The Role of the Holocaust Memory in Shaping Israeli Identity." In October 2014, he received his Ph.D. from the Department of Political Relations at Jagiellonian University, with a dissertation on "Political and International Aspects of the Functioning of the Auschwitz-Birkenau State Museum in the years 1980-2010." In 2000 he founded a research and historical interpretation center POLIN TRAVEL (www.jewish-guide.pl). It focuses and morphs history genealogy and guiding into a holistic visit experience in Central Europe. Tomasz holds multiple state guiding certificates at the Auschwitz-Birkenau State Museum, Kraków, and Galicia including the Second World War Museum at Schindler's Factory in Kraków, Polin Museum in Warsaw. He is an experienced genealogist and licensed tour leader in Poland and Central Europe. Cebulski is an author of multiple articles on the history of Polish Jews, genealogy, and politics of memory.  Cebulski is the author of a book, "Auschwitz after Auschwitz. History, memory, politics." The book debates the dynamic of construction of the Holocaust memory, provides an insight into the Auschwitz Museum through analyzing the politics of commemoration and conflict resolution a the side in the last 3 decades.
In 2020, Tomasz established a new visual project SKY HERITAGE PICTURES  to present historical sites from a new drone vantage point. The films produced by SHP in Gen-FILM-It series are used by museums, educational institutions and in narrating family genealogies. The productions are sharable and involving new digital tools to narrate history.
In 2020, Cebulski established the TEEN FLYING UNIVERSITY to promote education of Polish youth. Project is based on teaching values of social diversity and democracy as being rooted in history awareness. Within the project  local sites of memory are being discovered, taken care of and interpreted by the youth for the sake of local history awareness, responsibility and education.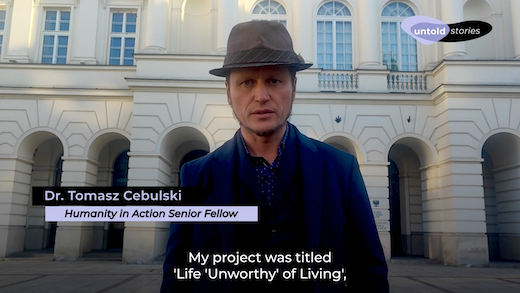 Learn more about Tomasz's Landecker Democracy Fellowship project here.
In 2022, Tomasz received a travel and research grant within the Untold Stories | Places of Memory project. He authored the video Life 'Unworthy' of Living.
Click here or on the picture to see the behind the scenes video.
Life 'Unworthy' of Living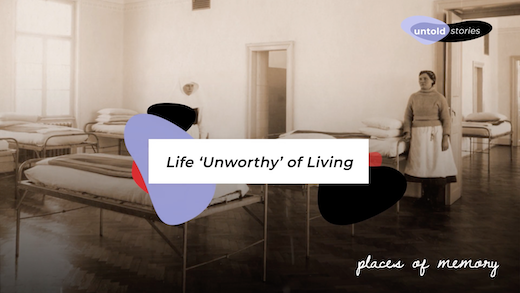 Click here or on the picture to see the full video.
Updated October 2022