Article
The Environmental Legal Education Project (ELEP) was developed by Cristina Margarita Carbonell Betancourt during her 2022 Humanity in Action Fellowship in Sarajevo. Working primarily in Morón, Carabobo, Venezuela, Cristina's action project addresses the interconnection of environmental and human rights issues within marginalized communities, emphasizing the right to a healthy environment as fundamental to ensuring the enjoyment of human rights.
Cristina was inspired by the dire living conditions faced by many communities in countries plagued by corruption, conflicts, and human rights abuses. "In such contexts, individuals often feel isolated and overwhelmed as their struggle for basic needs and environmental safety takes precedence," she shares.
Her personal experiences and observations of individuals living through these difficult circumstances enabled her to recognize the value of the knowledge and resilience that emerge from such experiences. The potential for individuals and communities to realize their struggles, unite, and use available legal mechanisms to seek justice for the injustices they face.
Project Development
Cristina collaborated with the Observatorio de Ecología Política de Venezuela (OEP), which provided invaluable insight into the urgent issues needing attention within the community. Through a three-day civic training program, she fostered public discussions, community ties, and a deeper understanding of how environmental issues are linked to human rights abuses. Participants, including rural and socio-economically marginalized individuals, engaged in defining key human rights concepts, fostering intergenerational community bonds, and accessing legal mechanisms to address injustices at an international level.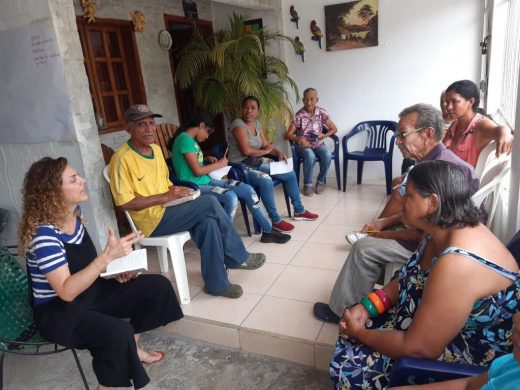 Cristina plans to expand her work to more communities, some of which are already in the pipeline. The project will continue to provide support for developing legal mechanisms that empower communities to seek justice for their human and environmental rights. Researchers interested in the topic, workshop facilitators for schools, and lawyers interested in working with international legal mechanisms are encouraged to get involved.
Updated October 2023
Follow Cristina to learn more about her action project