Article
For her Action Project, Senior Fellow Alexis Harrell decided to tackle the issue of narrative justice for people with Down syndrome.
According to Alexis, oftentimes, false and harmful narratives spread about people with Intellectual and Development Disabilities (IDD) – narratives told by people outside of the community. "I have worked with people with IDD for over eight years now, and I decided to tackle narrative justice because I have witnessed how false stereotypes about their communities have impacted their everyday lives," she shares.
Through this narrative photography workshop, Alexis encouraged participants to craft and share their own stories with the community. "I created this workshop series to teach basic photography and camera skills, along with teaching how to share personal narratives," Alexis explains.
Project Development
To develop this program, Alexis met with many organizations around Buffalo that offer art programs for people with IDD. Alexis also led many meetings with the Executive Director of GiGi's Playhouse Buffalo to plan the program, discuss funding, and complete other administrative tasks. Furthermore, she also applied for funding through her university and secured $2,500 to buy camera equipment and supplies. "Money was a crucial aspect of this program, as I was able to buy seven digital cameras for participants to use throughout the workshops!," Alexis notes.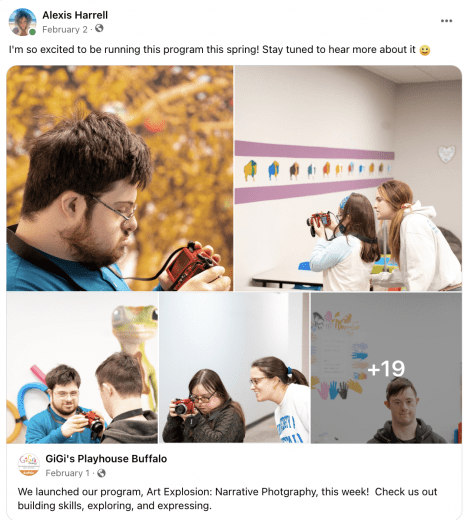 Participants were then able to share their narratives in the first iteration of this workshop through an art gallery hosted at GiGi's, which also served as a fundraiser for the organization.
"I will never forget how excited the participants were to see their artwork displayed on the wall for the gallery show."
Lessons Learned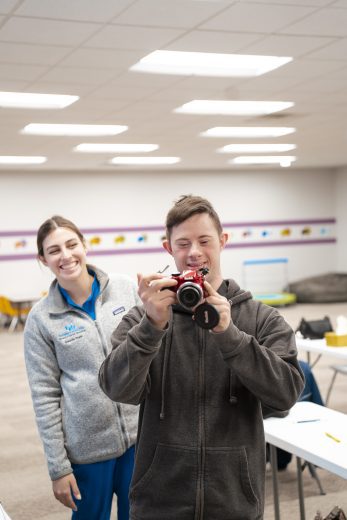 "I will never forget how excited the participants were to see their artwork displayed on the wall for the gallery show," Alexis says. Almost every single piece of artwork was sold, and her class raised about $400 for the Playhouse (this was after each artist received a large portion of the money).
At the gallery, Alexis also sold two pieces from her time in the 2022 Humanity in Action Warsaw Fellowship. She recalls the buyers were very interested in hearing her story about this Fellowship and what she learned while in Warsaw, which she was not expecting!
Alexis also realized that she had to overcome some of her stereotypes about people with IDD. When lesson planning, she almost withdrew some content she thought would be too advanced. However, she finally decided to include it. Almost everyone understood the concepts after the second session, and some even felt comfortable enough to shoot in manual mode after only two weeks of having the camera. She remembers one student showing her a picture they took and saying, "I think my aperture was too high because the photo is too bright!."
"Despite our intentions, no one is immune to bias!"
"I was blown away at how much information they retained, and this taught me to keep my own biases in check when doing this work. Despite our intentions, no one is immune to bias!," Alexis learned.
Next Steps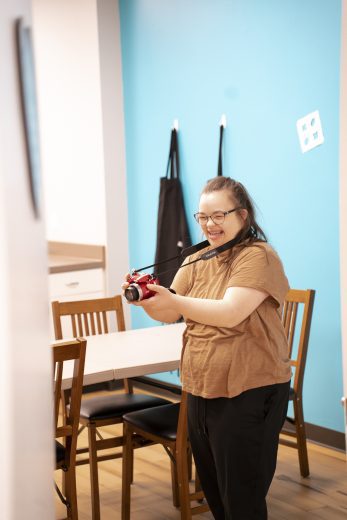 Alexis ran two iterations of the workshop, but now she is moving to the UK for the Marshall Scholarship. However, she is excited to share that the workshop will continue once she leaves, as one of her volunteers staying in Buffalo has agreed to run the workshop!
"I will give her all of my materials and help her virtually when she starts in the fall. I am very glad this could continue, as I only took six people in each workshop, but we had a waitlist of about five-ten people each time I ran the session," Alexis shares. People even called the Playhouse trying to get into the program and continued to ask if it would be running in the next session.
Updated August 2023