Article
As her Action Project, Joanitah created "Beauty Brigade," a project raising awareness about the environment of New Orleans, and why she wants to protect it.
Joanitah and her friend came up with the idea of inviting their friends to walk around the bayou, socialize, and pick up any trash they could find. That grew into the Beauty Brigade, a NOLA based group that aims to make the world around them more beautiful.
Project Development
Since the initial get together, Joanitah and her friend have had multiple meetings to develop their mission and goals. Then, they have sent out Google forms to gauge interest and have started a group chat.
A contact of theirs works with an environmental organization, and offered to provide a few seeds for gardening. "As far as trash pick-up materials go, people just come with what they have and we assess before we begin," Joanitah notes on the other aspect of her project.
Lessons Learned
For Joanitah, the biggest challenge has been keeping the momentum alive and well. "It is easy to fill out a form but getting consistent groups together has been hard," she explains.
"As far as advice goes, I would recommend taking one step at a time instead of taking on multiple parts of the project all at once and just making changes when you come across things that need to be changed."
At the same time, Joanitah was inspired by how willing people were to be a part of this project, noting it was nice to realize that one is surrounded by so many individuals with similar interests and goals. "It's been a great opportunity for me to meet people as well as deepen the connection with the friends I have who are a part of it," she admits.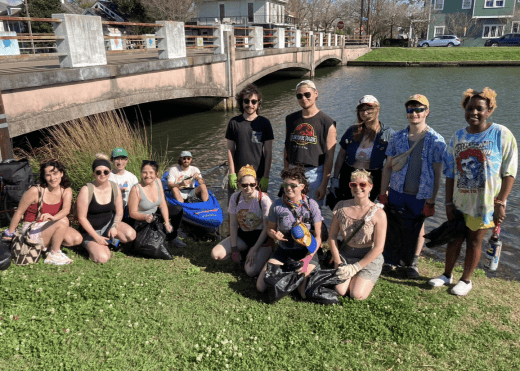 "We are hoping to expand and make this more than just a group but a collective, a community."
Next Steps
"We are hoping to expand and make this more than just a group but a collective, a community that learns from each other, builds off of each other, and works together for the betterment of the place we live in," Joanitah shares.
Joanitah further explains that the protection of the environment affects homeless populations, and that there is a large unhoused/homeless community in New Orleans. "We hope to map out these places and work with other organizations to do other things like gardening and working with homeless communities that reside in these various environments," she adds.
The next steps will include sharing of QR codes so that more individuals could join the group. Anyone wanting to get involved is welcomed to get in touch with Joanitah via email.
Updated July 2023