Article
For their 2022 Action Project, Fellow Elise Otmani (she/they) has created a queer utopia website: Freeing the Body, a home where artists' universes meet to show the beauty of being and loving differently. Though it is technically completed for HIA reporting purposes, the website remains in progress and the utopia in perpetual construction as they add artists to the website regularly.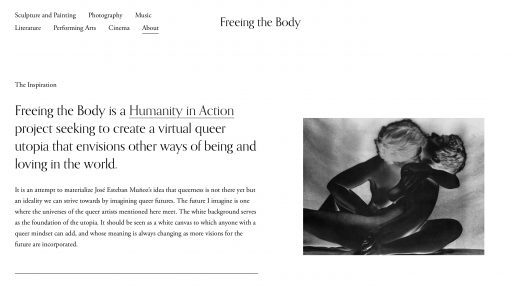 Inspiration for Freeing the Body
Elise wanted to give more visibility and praise to queer artists who have been helping make queer identity more acceptable and desirable in the eyes of the rest of society. In order to do this, she has exhibited their politically-loaded works into a website that should read as an ongoing utopia where each artist's universe adds to the mosaic of queer futures. Their project gathers the different ways in which artists have aestheticized queer identities to make them even more worthy of admiration.
Additionally, Elise was inspired by a close friend of theirs who also identifies as queer. He once told her that he felt incredible joy for being part of the LGBTQ+ community and was immensely proud of its constituting members. At that time, Elise explains how they hadn't fully embraced their queer identity and was left puzzled by this affirmation. The stronger their friendship grew, the more they discussed queer theories and the importance of seeing representations of queer relationships in the media to accept and embrace our identities. She further explored those queer ideas during her fellowship and through discussions with her Program Director Pauli who inspired her to read José Esteban Muñoz's book Cruising Utopia, whose ideas became central to her project. Elise sought to combine queer art and theory by creating a utopian virtual space out of queer artists' singular representations and visions for the future.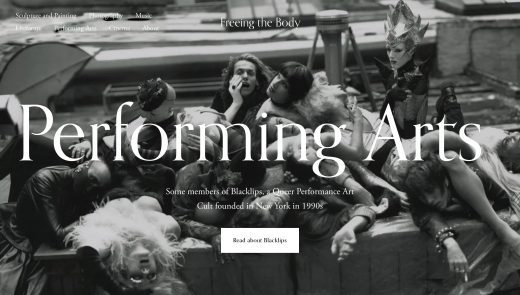 Developing the Project
As Elise tried to combine her long-standing interest in art and their growing fascination for queer theory, the idea of creating a (virtual) queer utopia emerged.
They experimented with a few website builders until they found the one with the design that best fit their project. Elise didn't have a preconceived idea of the 'looks' of the website in their mind, but it rather took shape as they explored software designs. She felt drawn to minimalist ones that left much leeway for change and put artists' portfolios in the spotlight. They went for a white-background style to present the queer utopia as a blank canvas that the combined efforts of artists can transform into a painting in perpetual change.
When it comes to the content of the website, Elise read books on the history of queer art to get an overview of the trailblazers who paved the way for contemporary artists to flourish. She also visited museums and galleries in New York City that had queer artists on display to get inspiration for artists to exhibit, and kept an eye out for new queer artists to discover everywhere she went – be it in libraries, coffee shops, book stores etc. They also spoke with curators on the artists' vision and message conveyed through the art.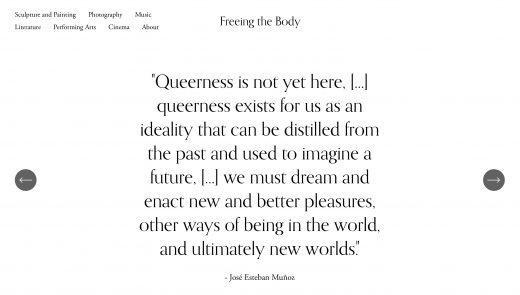 Getting Involved
To engage with Freeing the Body, you can click the link at the top of this page. Once there,  you can contribute to the project by submitting your suggestions for new artists to mention in the "About" section or just talk about the utopia to people in your surroundings. Also, Elise wants you to feel free to subscribe to the newsletter if you want to stay in the loop about new artists that enter the utopia!