Applications to our 2022 Fellowships are now open until February 13, 2022.
Our Fellowship Program Dates in 2022*
Warsaw: June 6 – 30, 2022 (in-person/hybrid)
Sarajevo: June 6 – 30, 2022 (virtual)
Berlin and Amsterdam: June 6 – 30, 2022 (in-person)
The Mapping Inequities Fellowship: June 1 – 17, 2022 (virtual)
*Due to COVID-19, we reserve the right to modify or cancel the program for reasons beyond our control.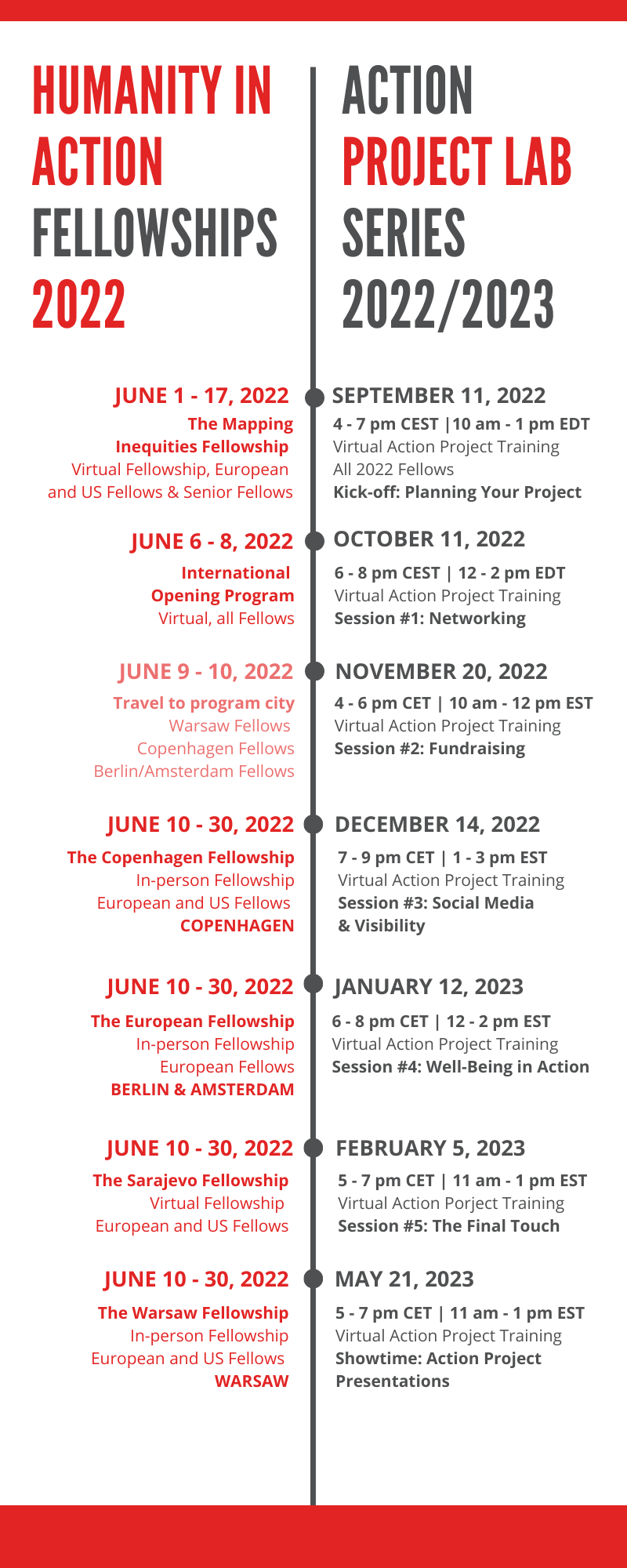 As a part of the year-long Fellowship, our Fellows first participate in an intensive three-week educational program providing a country and context-specific curriculum that examines historical and contemporary challenges to human rights, pluralism and equality. After the three weeks, they embark on developing civil society initiatives in their own communities (Action Projects).
The Fellowship comes with an ongoing training program to help Fellows implement their Action Projects, to continue collaborative learning and to keep in touch with their peers and the international Fellows' community. These meetings will not exceed 2.5 hours.
Warsaw Fellowship
Ever since the conservative Law and Justice party gained power in 2015, Poland has been in a perpetual state of emergency, suspending human rights and targeting minorities. This culminated in an official declaration on September 2, 2021, an unprecedented move restricting freedom of movement on the border with Belarus in response to a surge in crossings by people from the Middle East, Asia and Africa, effectively barring media and aid workers from the area. The humanitarian crisis at the border exposed grave negligence by the Polish authorities who by violating the right to asylum have become accomplices in crimes against humanity. The brutal pushback of asylum seekers stranded at the Poland-Belarus border only adds to the long list of human rights violations perpetrated by the Polish state. For the second year in a row, Poland has ranked lowest in the European Union for protection of LGBTQ+ rights. In late 2020, Poland has imposed a near total ban on abortion, prompting hundreds of thousands of women and their allies to protest Europe's most restrictive abortion law. Independent media and judiciary continue to be undermined.
The 2022 Warsaw Fellowship will examine Poland's failing democracy in the context of human rights violations and hate speech. We will also learn strategies of resistance from a vibrant civil society. Now, more than ever, we need to stand up for human rights! More info.
Sarajevo Fellowship
The Sarajevo Fellowship delves into nuanced discussion of transitional justice, post-conflict identity politics, and peacebuilding. It uses both the urban and rural landscapes around the capital to help Fellows connect the unique diversity of Bosnia and Herzegovina to international issues of ethnic nationalism, right-wing extremism, and the crafting of pluralistic democracies. More info.
The European Fellowship in Berlin and Amsterdam
The European Fellowship looks at Germany's National Socialist past to better understand its present. Fellows from a range of European countries examine the legacy of the Nazi past and its atrocities, the culture of remembrance and how Germany has come to terms with the Shoah. Main topics of inquiry will be Antisemitism, racism and hostility towards the LGBTQI community in historical and contemporary perspective.
The Fellowship will include an excursion to Amsterdam to explore the perspective of a country under German occupation during World War II. For bridging past and present Berlin and Amsterdam offer unique landscapes to explore the social, cultural, and historical tensions that impact our societies today. More info.
The Mapping Inequities Fellowship
The American based Fellowship program will consist of a two and half week virtual workshop. A group of 20 American and European Fellows and Senior Fellows will embark on a collaborative investigation and interpretation of spatial data within their respective geographies to illuminate pressing social inequities. These investigations will result in projects that will form an accessible digital exhibition for the public. More info.
The participation in our Fellowship programs is free of charge.