Details
Article
Landecker Fellow Anna Duensing authored a chapter in "Fascism in America," a new book published by Cambridge University Press.
Asking whether fascism has arrived in America, Gavriel D. Rosenfeld and Janet Ward invited experts to survey the history of fascism in the United States.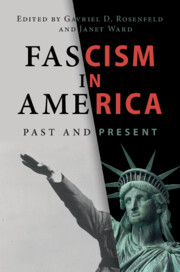 Although the US established a staunch anti-fascist reputation, "the unsettling truth is that fascist ideas have long been present within American society," claims the official book description.
Anna's chapter is titled "A Heritage of Fascists without Labels," and looks to the early postwar period to explore some fat early legacies of black antifascism. More specifically, Anna explored which aspects of the black antifascist tradition endured and informed postwar struggles.
This chapter thus provides a "new perspective on an understudied aspect of the long civil rights movement and postwar far right," the official summary explains.
Learn more
Anna is one of thirty 2021-2022 Landecker Democracy Fellows. This fellowship, a collaboration between the Alfred Landecker Foundation and Humanity in Action, was created to strengthen a new generation of leaders whose approaches to political and social challenges can become catalysts for democratic placemaking and community building. Read more about the fellowship here.