Details
Article
Join Fellows Rachel Bell and Alex Rossen for "3G Mini-Story Cafe" – an opportunity for all to participate in a supportive, all-inclusive community of friends, family members, and supporters of Holocaust survivors.
On March 26, 2023, in QED Astoria, the Fellows are organizing an interactive MOTH-inspired storytelling event in which a panel of grandchildren of Holocaust survivors will share 5-minute stories that capture a facet of their experiences as descendants of survivors. Audience members will also be invited to engage in various short-form prompts.
Kosher snacks will be provided and additional food and drinks will be available for purchase.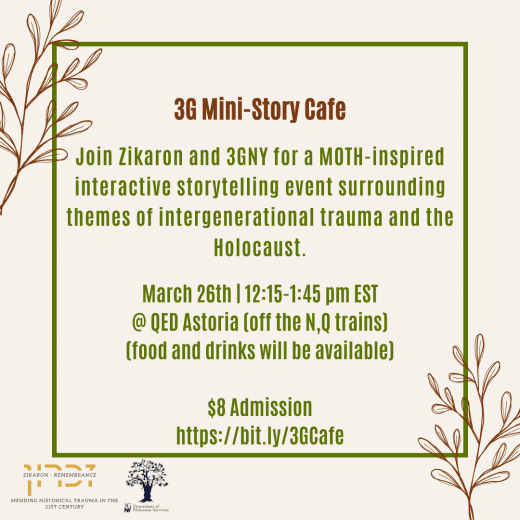 The event is organizes jointly by Zikaron (a collective established by Rachel Bell and Alex Rossen) and 3GNY, an educational non-profit organization founded by grandchildren of Holocaust survivors.
Learn more