Details
Article
The Her.Tietz Initiative was founded in 2017 through Senior Fellow Alexander Busold. The Her.Tietz Initiative is committed to an open handling of the Nazi history of Hertie, an active commemoration of the victims of the Shoah and to fighting Antisemitism today.
One of their goals was and still is to advocate for the disclosure of previous conducted studies, and for further research on the history of the Tietz family. In late 2020 the Hertie Foundation agreed to commission a historical study. Now, three years later, the study will be published as a book and the book launch will be accompanied by a panel discussion.
The Event will take place on Tuesday, 5th December 2023.
The book presentation and discussion, will take place on Tuesday, 5th December 2023, at The Jüdisches Museum Frankfurt. The study examines the circumstances of the Tietz family after the loss of their company and the development of the Hertie Group up to the disputes over restitution and compensation in the immediate post-war years. Drawing on a wide range of sources, including previously inaccessible documents, a detailed picture of the "Aryanization process" and its consequences emerges for the first time.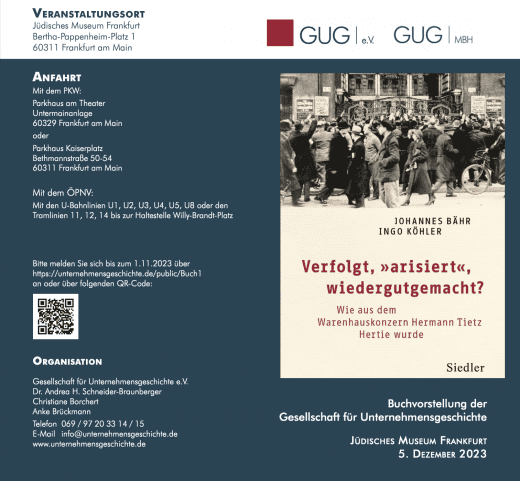 The Book Launch
At first, there will be a keynote by the two researcher, Prof. Dr. Johannes Bähr (Goethe-Universität Frankfurt) and Prof. Dr. Ingo Köhler (Hessisches Wirtschaftsarchiv, Darmstadt), on the topic of "Persecuted, "Aryanized," Reparated? How the Hermann Tietz department store group became Hertie".
Please register here before November, 1st 2023.
This keynote will be followed by a panel discussion with the following guest:
Moderation: Carsten Knop (Editor, Frankfurter Allgemeine Zeitung)
Join us for the event and together, we can honour the past, confront the challenges of today, and shape a more inclusive and compassionate future.
Learn more & participate