Details
Article
In November 2022, the 22nd Irish Tatler Women of the Year Awards were announced at a gala event hosted by Irish Tatler Editor Jessie Collins. The event saw 17 category winners announced, across the categories of media, STEM, music and public life.
Senior Landecker Fellow Mamobo Ogoro received the Catalyst Award. "This award recognizes a woman who is effecting social change in Irish society," shared Mamobo on her Instagram page.
"I owe gratitude to all the women (and men) who helped mould the person I am today, from Ese Agesse (my mum) who taught me strength, resilience and even public speaking (she is a pastor), Anca Minescu, PhD and Mairead Moriarty (my PhD advisors) who taught me persistence and how to be a true advocate; to the Gorm Team and community who inspire me everyday to keep the mission alive." – Mamobo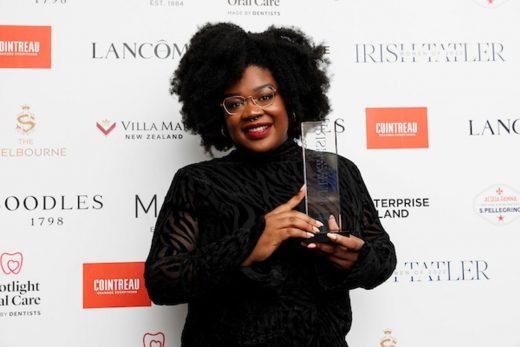 Mamobo is one of thirty 2021-2022 Landecker Democracy Fellows. This fellowship, a collaboration between the Alfred Landecker Foundation and Humanity in Action, was created to strengthen a new generation of leaders whose approaches to political and social challenges can become catalysts for democratic placemaking and community building. Read more about the fellowship here.