Details
Article
On Human Rights Day, 10th December 2022., the 11th cycle of our program "Encouraging Democratic Values and Active Citizenship Among Youth" had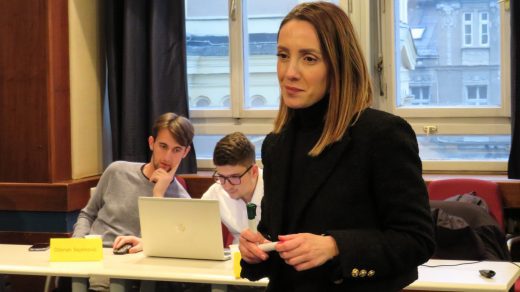 started and gathered 15 Fellows from across Bosnia and Herzegovina.
The program set-off, as per tradition, with a nine-day educative module. Fellows have had the opportunity to focus on different topics and ideas and had discussed inclusive societies, the role of media and press in democratic systems and the importance of the correct interpretation of history, especially in terms of Bosnia and Herzegovina
In the spirit of the day the module had started on, the first lecture had minority rights in it's focus and was held by the President of the Jewish Community in B&H, Mr. Jakob Finci. Our Fellows continued to listen and discuss minority rights, political participation and investigative journalism, as well as the ethics and the importance of the aforementioned. The day finished with the board games designed as a part of our project #gamEscape, supported by the UNFPA.
The following days, Fellows had listened to lectures and attended workshops focused on better understanding of democracy but also on the current issues that the citizens of Bosnia and Herzegovina and the BiH democracy are facing. The lectures were held by experts and successful entrepreneurs from the B&H society , as well as activists who stand for the values of equality, pluralism and human rights. The lectures also focused on overcoming the obstacles with which the B&H democracy is facing and the role of young people in the B&H society.