Article
Humanity in Action Germany, NYU Berlin and the Barenboim-Said Akademie are happy to invite you to a screening of the animated documentary "My Father's War", followed by a discussion with the film protagonists, Peter and David Hein and a reception. 
>> When? Thursday, 17.11.2022, at 18:30
>> Where? NYU Berlin Academic Center, Schönhauser Allee 36, 10435 Berlin, room 101.
Registration to the event is free but the number of seats is limited. Please RSVP to the event via this link.
My Father's War, an animated documentary produced by Humanity in Action, brings to life the experiences of Peter Hein and his son David Hein. As a Jewish toddler in the Netherlands in the 1940s, Peter was separated from his parents and whisked from hiding place to hiding place to escape deportation. Meanwhile, the film also follows Peter's parents, who themselves must make a series of daring escapes as their hiding places are revealed to Nazi forces by Dutch collaborators.
For Peter's son David, his father's war stories once sounded widely exiting, and as a child, David longs for the opportunity to experience similar exhilaration. What David did not realize is that, while his father's physical injuries healed, a deep psychological trauma lingered. Eventually, Peter's mental health buckles under the weight of his memories.
The film thus explores the hereditary trauma of the Holocaust: the deep emotional wounds of forefathers passed on to children and grandchildren. Peter's mental collapse jars David's childhood, and reveals to David the deep-seated impact conflict renders on those who suffer it. Ultimately, the experience inspires David to pursue a career bringing war criminals to justice.  Narrated by both Peter and David, My Father's War depicts an intergenerational conversation, reverberating across the decades. 
My Father's War was made with the generous support of the Alfred Landecker Foundation and is the third part of Humanity in Action's animated trilogy Traces-Portraits of Resistance and Survival, which also includes the films Voices in the Void and Two Trees in Jerusalem.
Program
18:30 Opening remarks: Gabriella Etmektsoglou, Director of NYU Berlin
18:40 Film screening My Father's War
19:10 Talk and Q&A with Peter and David Hein, moderated by Humanity in Action's Film Project Manager Meital Rozental.
19:30 Conversation between Joseph Pearson, writer, cultural historian and author of the book "My Grandfather's Knife And Other Stories of War and Belongings" and musician Natalie Clein, whose mother was a hidden child in the Netherlands during the Holocaust.
20:00 Reception with finger food and drinks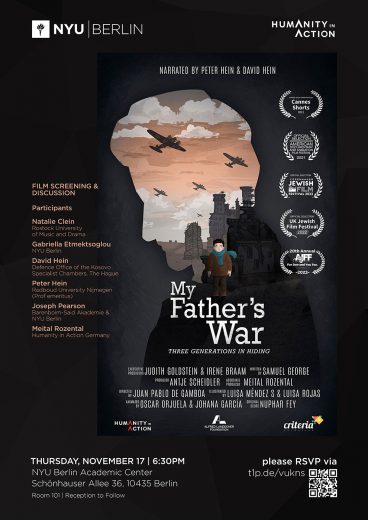 Related People:
Learn more about the films