Details
Article
On March 15, 2023, at 3pm CET, Landecker Fellow Nicole Rieber is speaking at an online event organized by the Peace Research Institute Frankfurt of the Leibniz Institute Hessian Foundation for Peace and Conflict Research.
At the event titled "Conspiracy theories and threat to democracy in the classroom," Nicole will give an insight into the methods dealing with conflicts, conspiracy theories and democracy. Nicole will further "discuss the exposure to specific scenarios in which conspiracy theories play a role, and report on her experiences in the implementation of her project in schools," the official program says.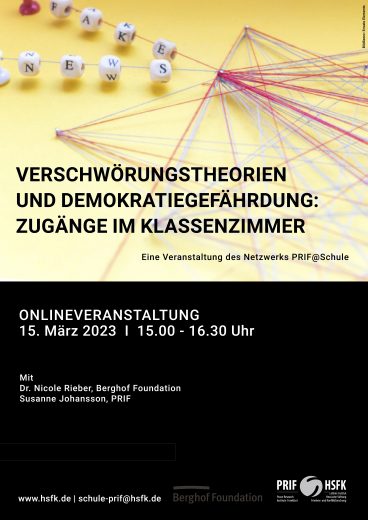 After Nicole's speech, the discussion will be opened to all participants for a Q&A session.
Learn more
Nicole is one of thirty 2022-2023 Landecker Democracy Fellows. This fellowship, a collaboration between the Alfred Landecker Foundation and Humanity in Action, was created to strengthen a new generation of leaders whose approaches to political and social challenges can become catalysts for democratic placemaking and community building. Read more about the fellowship here.