Details
Article
University of California in Davis is set to welcome participants to the "Poetry of Belonging" creative writing workshop, an engaging event scheduled for June 30th at 10 am. This initiative is organized by Landecker Fellow Nikola Lero.
The workshop will be incorporated into the "Transnational Migration" course taught by Prof. Monica Torreiro-Casal, a faculty member at the Chicano/a Studies Department at UC Davis. Prof. Torreiro-Casal is noted for her dedication to researching immigrant communities and for her innovative teaching methods.
Nikola Lero, a Bosnian-born poet, will be leading the workshop. Drawing from his experiences as a refugee and migrant from Bosnia and Herzegovina, Lero will guide participants, including young immigrants and first and second-generation Americans, through a meaningful exploration of self-identity and belonging. "A unique aspect of this workshop is the introduction to Instagram and TikTok poetry, providing a modern twist to traditional poetic expression," Nikola explains.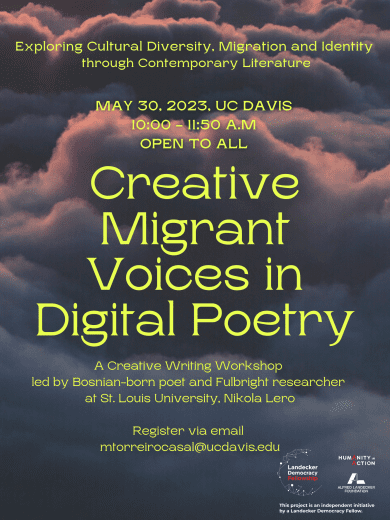 Selected poems from the workshop could be included in a digital TikTok poetry book, titled "Poetry of Belonging", adding an extra layer of excitement to the event.
The Fellowship "Democracy in the Digital Age" programming seeks to encourage democratic engagement in today's digital realm. "With this objective, the 'Poetry of Belonging' workshop offers an opportunity to delve into these important themes through a creative lens," Nikola believes.
This event promises a unique and immersive experience at UC Davis, enriching the conversation about migration and identity in a highly interactive and creative setting. It certainly offers an occasion not to be missed for all those involved.
Get involved
Nikola is one of thirty 2022-2023 Landecker Democracy Fellows. This fellowship, a collaboration between the Alfred Landecker Foundation and Humanity in Action, was created to strengthen a new generation of leaders whose approaches to political and social challenges can become catalysts for democratic placemaking and community building. Read more about the fellowship here.