Details
Article
Every year, the Copenhagen Fellowship invites the public in to discuss issues related to the Fellowship. The purpose of these events is to engage the public – and engage with the public – about issues close to our hearts. The 2023 Copenhagen Fellowship is no exception.
This year, we are organizing two Open Events. We hope these events will challenge both Fellows, speakers and the audience, and contribute to new insights. More information about our Open Events can be found below.
We hope to see you!
"I, Too" – Film Screening & Reception
Humanity in Action is pleased to invite you to the Danish premiere of our newest documentary film "I, Too" with award-winning American historian and author Carol Anderson. The film will be followed by a conversation with Carol Anderson herself, live via Skype, and a reception.
When: Monday, June 19, 19.00-21.00 with a reception afterwards.
Where:  Cinemateket, Gothersgade 55, 1123 København.
Note: Tickets can be purchased via Cinemateket's website
About I, Too
On January 6, 2021, armed protesters stormed the United States Congress. For Carol Anderson, the riot was a predictable end to more than two centuries of American mythology. For what happens when we discover that the history we teach our children is made up of fables, not facts; when the gap between the dizzying rhetoric and cynical politics is too great to ignore; and when white supremacy is allowed to thrive?
In "I, Too", Carol Anderson takes us on a journey to unfamiliar places in American history and sheds new light on how the United States reached this turning point in history. Anderson wants to close the gap between who Americans say they are as a nation… and who they actually are.
The film invites a dialogue between past and present. We will screen the film on June 19, known as Juneteenth, an American holiday that symbolizes the end of slavery in the United States. After the film screening and conversation, drinks will be offered.
I, Too, is a co-production of the Bertelsmann Foundation and Humanity in Action, with generous support from the Donner Foundation.
_____________________________________
"A Just Future in Sight" – Reading & Talk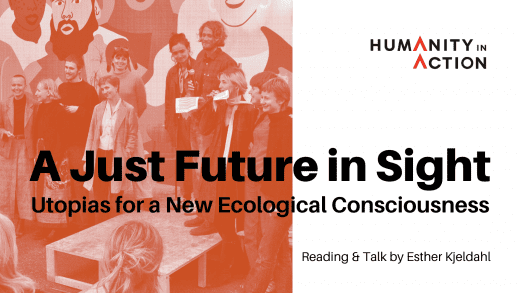 Humanity in Action & Den Grønne Ungdomsbevægelse invites you to an afternoon exploring utopias for a new ecological consciousness and the power of emotions in climate justice activism.
When: Monday, June 23, 17.00-19.00. 
Where: Ungdommens Demokratihus, Slagtehusgade 10a, 1715 København (Kødbyen).
Note: This is also our Senior Fellow Action Day, so we are happy to invite the Senior Fellows to stay for a Community Dinner afterwards.
About The Event
Sit back, relax and allow yourself to dream as Esther Kjeldahl reads utopian visions for a just future in sight. As we see the consequences of climate change and environmental degradation, we become dystopian. But who owns our imagination? And do you dare to take it back? What happens if we begin to imagine a future with respect of human dignity and planetary boundaries. In this talk, Kjeldahl will talk about the power of utopias for creating systematic changes. The reading and talk take its outset from the newly published: 'Retfærdig Naturbevarelse – et manifest', by the Green Youth Movement & Økotopia.
Esther Kjeldahl will also talk about the power of emotions in climate justice activism. Instinctively, we want to push our emotions away, especially as they start to disrupt our idea of the perfect activist. However, Kjeldahl insists on the importance of emotions in activism. Through philosophy and social psychology she teaches you how to accept the discomfort and grief related to the ecological crises and find a community to hold space for it. This part of the talk is inspired by Esther book: 'Vi er sammen om at mærke det'.
After the reading & talk it will be possible to buy the books and get them signed by Esther Kjeldahl. You will also have the chance to hear more about Humanity in Action, if you are interested in joining next year's Fellowship and learning more about the intersection of climate, human rights and democracy.
We kindly thank Ungdommens Demokratihus for being part of this event!