The Senior Fellow network is the heart of the Humanity in Action community.
Interested in becoming a Humanity in Action Fellow?
Application dates for 2022 Fellowship Programs
Applications for the 2022 Fellowship are now open. Application deadline is February 13, 2022.
Our Fellowship Dates in 2022
The Humanity in Action journey begins with a year-long Fellowship – an intense period in the summer and an ongoing training program throughout the fall and winter.
The European, Copenhagen and Warsaw Fellowship: June 6 – June 30, 2022 (in-person)
The Sarajevo Fellowship: June 6 – June 30, 2022 (virtual)
The Mapping Inequities Fellowship: June 1 – 17, 2022 (virtual)
In addition to these joint weeks together, the Fellowship comes with an ongoing training program to help Fellows implement their Action Projects, to continue collaborative learning and to keep in touch with the community.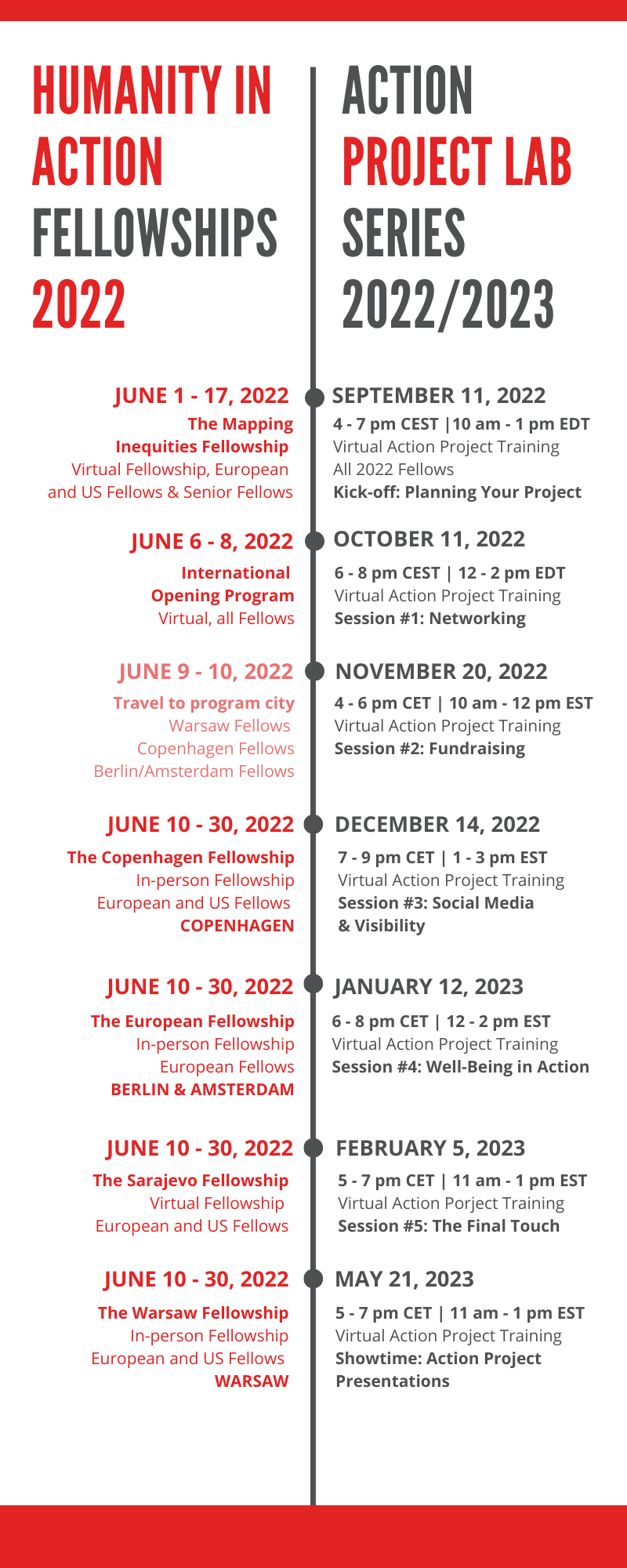 Required Eligibility Criteria
You speak English fluently (all programs are conducted in English)
You must fit

one of the below

:

You are a current, full-time student in an accredited college or university located in Bosnia and Herzegovina, Denmark, France, Germany, Greece, Poland, the Netherlands, Ukraine or the United States.
You are a recent graduate of a college or university in any of the above mentioned countries. Recent graduates include those who graduated in the two years preceding the Fellowship.
You grew up in or are a citizen* of any of the above-mentioned countries and study at a university in any country of the world.
*Some exceptions exist within each country's specific pages for newcomers, non-citizen residents. Please select the country below that you think most appropriately fits your eligibility to learn more.
What else are we looking for?
People we accept to our Fellowships are reflective and self-reflective, critical and self-critical. They demonstrate openness, humility, and a readiness to challenge their own preconceptions.
Successful candidates are willing to engage in difficult yet constructive and meaningful dialogue. They appreciate the complex interweaving of many identities and perspectives.
Future Fellows need to be comfortable with feeling uncomfortable and allow space for misunderstanding and mistakes in the process of learning. They acknowledge others' learning and healing processes.
Interested in joining our community? Learn more about your country's application process below.