Details
Article
On November 19, 2023 at 2:00PM ET, Humanity in Action Founder Judith Goldstein is speaking at a webinar Commemorating the 80th Anniversary of the Rescue of the Jews in Denmark During the Holocaust.
About the program
The commemoration program, opened by Ambassador of Denmark, H.E. Thomas Winkler, will also feature speakers including Dr. Bo Lidegaard and Rabbi Jair Melchior.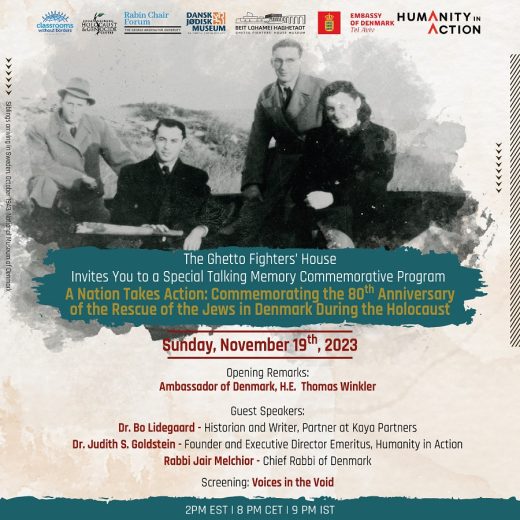 Bo Lidegaard will present a new explanation of the rescue based on more than ten years of historical research. Rabbi Jair Melchior, Chief Rabbi of Denmark, will share the story of his grandfather, Rabbi Bent Melchior z'l, who was rescued on one of the boats to Sweden.
Judy Goldstein will introduce the work of Humanity in Action, including the production of the animated documentary Voices in the Void, which is part of the film series Traces: Portraits of Resistance, Survival and Resolve. What is more, participants will have the opportunity to see a screening of the film during the program.
Register for the event here.
The program is organized in partnership with the Embassy of Denmark in Tel Aviv, Humanity in Action, the Danish Jewish Museum, the Johannesburg Holocaust & Genocide Center, Classrooms without Borders, and the Rabin Chair Forum at George Washington University.